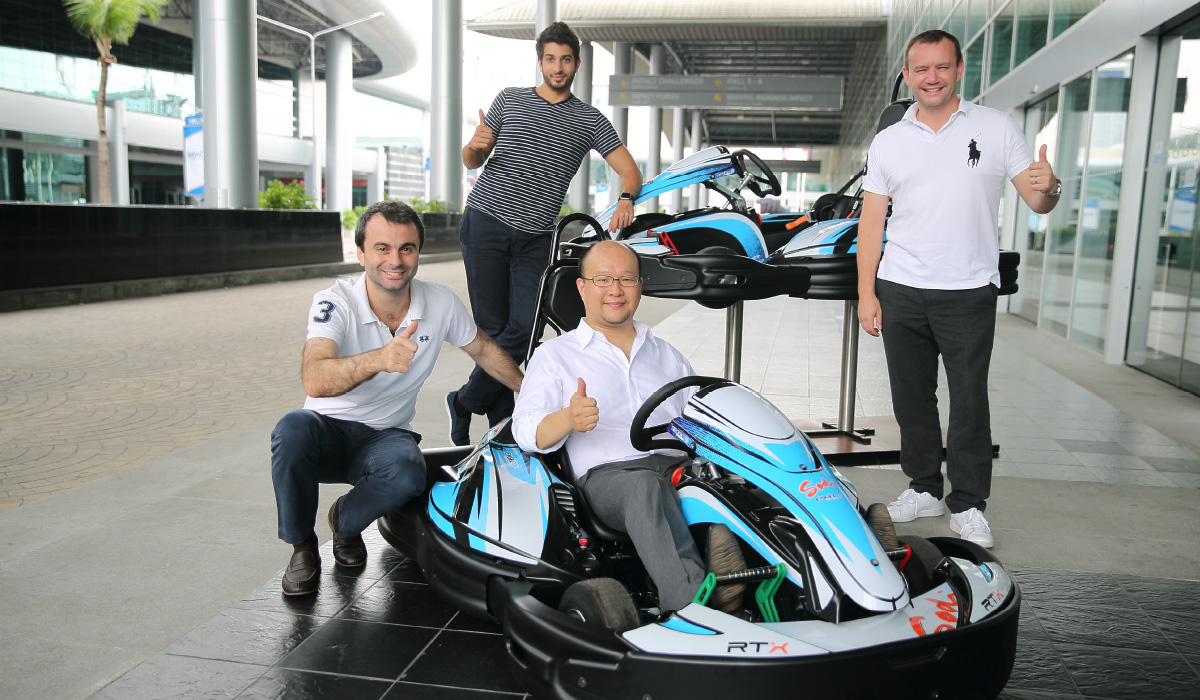 IMPACT introduces "IMPACT Speed Park", a brand new world class go kart facility set to redefine the leisure karting experience
IMPACT Exhibition Management Co., Ltd., a subsidiary of Bangkok Land Public Company Limited, is pleased to present "IMPACT Speed Park", a brand new world class go kart facility, and unveils for the first time ever in Thailand the global leading standard Sodi RTX electric go karts to comprise a fleet of 30 karts. IMPACT Speed Park, located at Muang Thong Thai's iconic "Lakeside", is an integral part of IMPACT's ambitious program to introduce world class level leisure and entertainment facilities to complement its position as Thailand's MICE sector leader and standard setter.
Mr. Paul Kanjanapas, Managing Director of IMPACT Exhibition Management Co., Ltd., said: "IMPACT Speed Park" is a new tourist destination to accommodate various lifestyle needs of our customers and visitors to IMPACT Muang Thong Thani. It is a brand new facility that has been purpose-designed without compromise to maximize the ultimate experience and create a fun and safe racing environment for everyone. Our electric karts offer optimized participant safety, enhanced drivability and enjoyment as well as being clean and efficient while emitting zero noise and emissions. "IMPACT Speed Park" is targeted at people from all walks of life and in particular IMPACT's existing corporate clients and we expect it to be able to support product launches, team building activities, and large group events. Another key ambition of "IMPACT Speed Park" is to be a top twenty 'Bangkok Destination' and further to pursue international recognition and appeal."
Mr. Paul added: "The karts and circuit are supported by a brand new purpose built facility that has been designed to enhance the visitor experience and create what we are confident will become a leading international leisure destination. The supporting infrastructure leads onto the Lakeside and includes in the first phase the Breeze Café and Bar with multiple further food and beverage vendors set to be rolled out within December to complement the experience."
Miss Piyathida Thurachon, Director of Leisure & Entertainment of IMPACT Exhibition Management Co., Ltd., said: "We wanted to create an experience that would really stand out in Thailand. It's a track where more experienced drivers and those who have never sat in a kart before can equally enjoy themselves. Our slogan is 'Now Everyone Can Enjoy Speed' and that's been the aim, pleasure for everyone while at the same time making no compromise in terms of safety. We've enjoyed great support in developing this project while the team we have put in place is strong, committed and dedicated to realizing the vision. I'm very pleased with what we have achieved so far and I think all our visitors are going to really enjoy themselves."
Recently, the IMPACT Speedpark team has set up a new auto shop for kart owners. The gist of the garage is to provide the opportunity to deal with the occurred kart technical issues to those who can't afford car repairs. As the cost of kart repair is originally quite high, building a budget-friendly auto shop has become a perfect addition to the organization's current services.
The state of the art Sodi "RTX" electric kart ushers in the next generation of leisure karting and IMPACT is very proud to introduce this exciting new technology platform to Thailand. Meanwhile, the new IMPACT Speed Park circuit, which is available in multiple configurations up to a maximum length of 800 meters, has been designed for the best possible safety and pure enjoyment. The track has been created by IMPACT's team working in conjunction with SodiKart, the world leader in leisure karting.
Achieving the highest safety standards possible has been IMPACT Speed Park's core objective and the circuit includes large runoff zones as well as safety barriers from the F1 track safety leader TECPRO International, thus allowing visitors to enjoy the experience of karting in a safe and carefully controlled environment. At the same time the circuit has been created to be challenging for users of all experience levels.
"IMPACT Speed Park" will begin welcoming visitors in early December. Good news for those interested to try out the ultimate karting experience! Enjoy 30% discount on driving session from December 1, 2016 until January 31, 2017.
Media contacts:
Jintana Phongpakdee
Corporate Communications Director
DID: +66 (0) 2833-5061
Email:

This email address is being protected from spambots. You need JavaScript enabled to view it.


Kittiwath Jangwang
Assistant PR Manager
DID: +66 (0) 2833-5073
Email:

This email address is being protected from spambots. You need JavaScript enabled to view it.
---
Note to the editors:
About IMPACT Exhibition and Convention Center
IMPACT Muang Thong Thani is Asia's leading venue. The Center is equipped with state-of-the-art integrated facilities that offer the ultimate choice for business success on more than 140,000 square meters of floor space. It comprises four large multi-purposed buildings, namely IMPACT Arena, IMPACT Exhibition Center, IMPACT Forum and IMPACT Challenger, 55 Meeting Rooms, 2 Ballrooms: Royal Jubilee Ballroom and Grand Diamond Ballroom, 2 Banquet halls, 2 outdoor areas; Lakeside and Aktiv Square, and 4 star Novotel Bangkok IMPACT. The venue also offers a wide range of nine restaurants onsite and other 30 dining outlets. The five outdoor and two indoor parking areas can accommodate more than 20,000 vehicles.
Our "Partnership for Success" vision is based on delivery high value to our partners and customers through mutual trust, cooperation, strategic partnerships, customized and turn-key solutions. We offer to customers our knowledge, our people, our skills, our network and our best services of international standard.