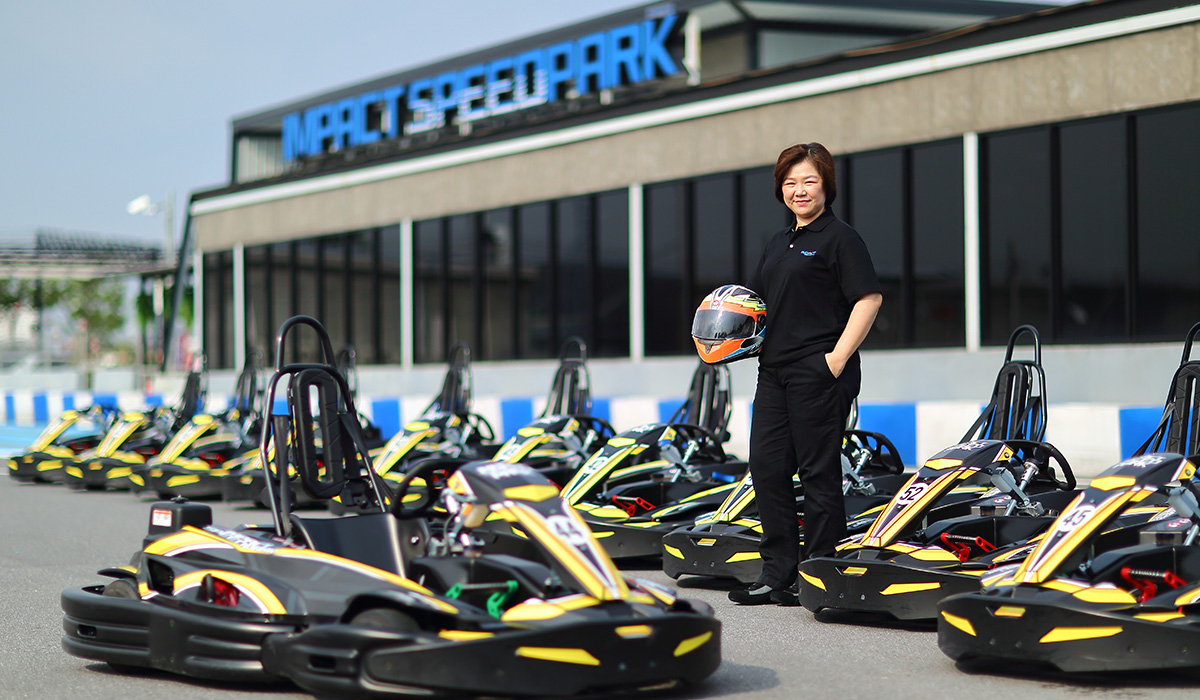 IMPACT SPEED PARK INCREASES THE THRILLS WITH NEW GASOLINE KARTS
IMPACT Speed Park is pleased to introduce its new fleet of fast, agile and highly dynamic state-of-the-art Sodi RT8 gasoline karts, which are set to add an exciting new dimension to leisure karting.
The RT8 will add a further option for visitors who demand more extreme sensations of speed and enjoy the feel of driving a racecar. It will slot into IMPACT Speed Park above our electric and 2DRIVE (two-seater) karts as we relentlessly seek to offer the ultimate experience for every visitor from the first timer to the experienced racer.
To introduce a gasoline kart fleet option to IMPACT Speed Park we made no compromises in choosing the world-class RT8 - the first leisure focused kart in the world to feature fully integral bodywork which provides the user brand new sensations and an incredible feeling of racing a car coupled to maximum safety on board. It's the first time that the cutting-edge RT8 kart has been introduced in South East Asia.
As with our electric karts, the RT8 also features patented "Proslide" protection technology all round; a system which is damped to allow its movement and thus absorb impacts.
The RT8 also has an integrated floor covering as well as complete bodywork that fully covers the engine, all mechanical parts, wheels and the fuel tank for absolute safety as well as reduction of noise and elimination of smells to further enhance the experience.
Safety continues with a roll protection hoop and a 4-point harness safety belts.
And, just like our electric karts, the RT8 is uncompromising in its pursuit of offering the user the most comfortable experience. Comfort optimizes enjoyment - so that means adjustable reach pedals, adjustable steering column height and adjustable seat travel - so all users can very quickly adjust their kart to obtain the perfect driving position.
The RT8 is powered by a powerful 390cc 4-stroke Honda engine with 12 hp - and that puts it up there in terms of dynamics with pukka racing karts but thanks to the character of the RT8 it can be enjoyed with maximum safety.
Piyathida Thurachon, Director of Leisure & Entertainment, says: "Since we opened at the end of 2016, IMPACT Speed Park has relentlessly focused on bringing a brand new premium karting experience to visitors, one that would appeal to everyone, whether they have prior interest in karting or not. Our team has worked very hard to also connect our concept to tourists and we are pleased that IMPACT Speed Park has become a recognized and popular Bangkok leisure destination in just this short period of time. We aren't sitting back at all though and we want to keep add products that will widen the experience. To that end we added a fleet of new 'two seater' karts to the mix earlier this year which allows couples and families with children that meet age and height requirements to enjoy the sensations of speed and fun and now we are introducing a new fleet of gasoline karts to compliment the electric karts. The gasoline karts will be targeted at users who want a more extreme sensation of speed and we have made no compromise in choosing the Sodi RT8, the world leader for this type of kart, which like our other karts ensures maximizes safety for our users. We're now excited to be able to offer these gasoline karts for our visitors."
For further media inquiries, please contact
IMPACT Exhibition Management Co., Ltd.
Jintana Phongpakdee / Awikan Buakong

Tel: 02-833-5061 / 02-833-5078
Email:

This email address is being protected from spambots. You need JavaScript enabled to view it.

/

This email address is being protected from spambots. You need JavaScript enabled to view it.