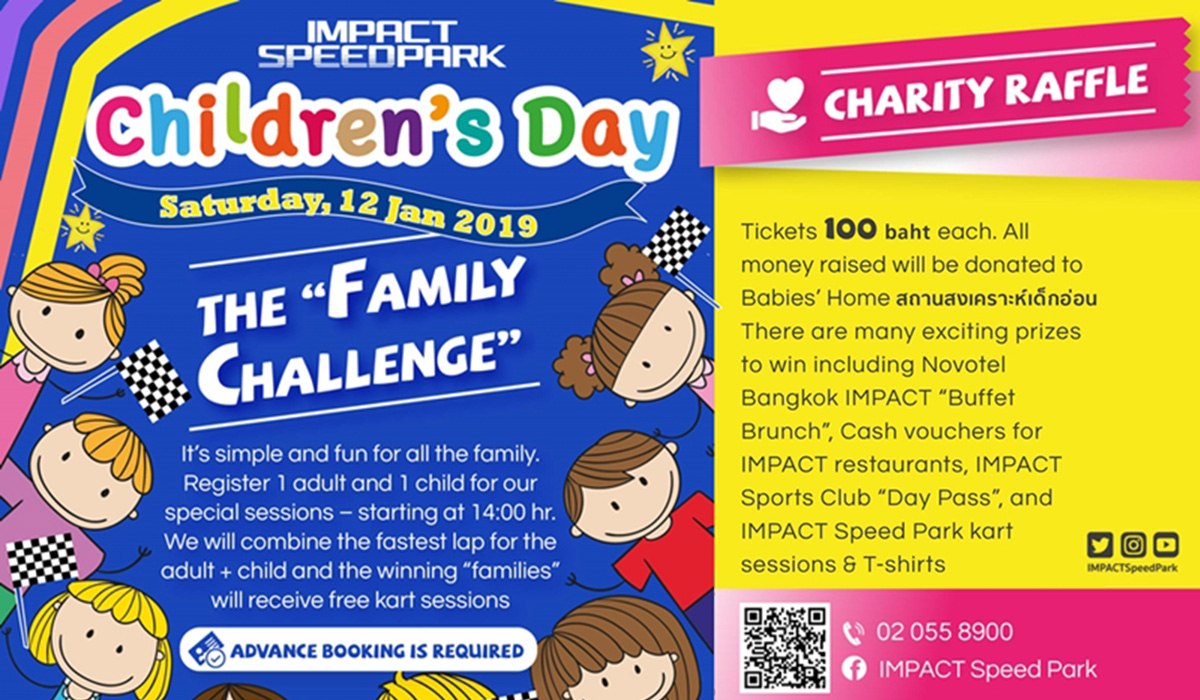 IMPACT Speed Park curates go kart family challenge and charity raffle"to celebrate Children's Day 2019
IMPACT Speed Park, a premier go-karting facility under the management of IMPACT Exhibition Management Co., Ltd., will launch the "Family Challenge" to celebrate the Children's Day 2019 on January 12, 2019 from 2:00 p.m. onwards where a parent will team up with his/her children to complete in a competition with the best lap time, and the winning team will be awarded with prizes like free go kart sessions and many more.
This opportunity offers a terrific opportunity to family members to not only enjoy each other's company but also let them give back to society via a charity raffle. Charity ticket is only 100 baht and will be donated to our local Children's Centers.
Buy a ticket and win big prizes such as cash vouchers for a brunch buffet at Novotel Bangkok IMPACT, cash vouchers from IMPACT restaurants, a guest day pass at IMPACT Sports Club, and free go kart sessions & T-shirts from IMPACT Speed Park. For more information, please contact 02 055 8900
For further media inquiries, please contact
IMPACT Exhibition Management Co., Ltd.
Jintana Phongpakdee / Awikan Buakong

Tel: 02-833-5061 / 02-833-5078
Email:

This email address is being protected from spambots. You need JavaScript enabled to view it.

/

This email address is being protected from spambots. You need JavaScript enabled to view it.